Individualized Day Services (IDS) at Port Coquitlam became a program due to a lack of a service that accommodated the needs of individuals with disabilities graduating from high school in the community.
These individuals were searching for a program that gave them the opportunity to work with their friends and meet their needs and desires.
Our clients volunteer regularly:
At a local high school, doing recycling
At the local church, folding bulletins
In a laundry program
At Hawthorne Senior Center
At Jolly Olde Bookstore, helping with various duties
At Lions Care Centre
In shopping programs
At the SPCA
At TLC Grooming
Our initiatives at Port Coquitlam
In Port Coquitlam there are two day programs, IDS1 and IDS2. Both programs are entirely off-site and they take place within the community. IDS in Port Coquitlam also runs one of our initiatives.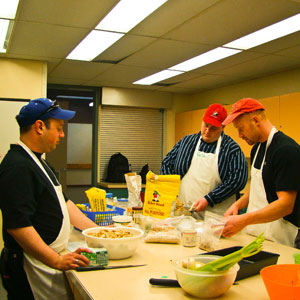 Kyle Kitchen is run by both the individuals and staff members at IDS. With everyone contributing over the years, Kyle Kitchen has become a lunch that many of the local seniors look forward to.