How are you? I'm Dan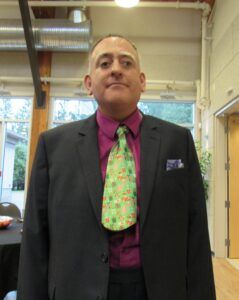 Dan maintains his terrific sense of humour and commitment to his cultural passions despite changes the pandemic has imposed in the community and the world. During Community Integration Services Society (CISS) Multicultural Event, Dan demonstrated his cultural knowledge and presented an informative video about Canada's immigration history. Very informative!
Dan loves to share stories of adventures with his caregiver and caregiver's family. Dan is an avid fan of music especially opera and Golden Oldies. Dan enjoys discussing his current readings, particularly history and fantasy and exploring the foods he loves, (the spicier the better)!
Dan takes pride in keeping busy at home. Dan looks forward to the day when Covid 19 is gone and he feels safe in the community. Dan would like to return to his paid work once it is safe to do so.
Inspiration Garden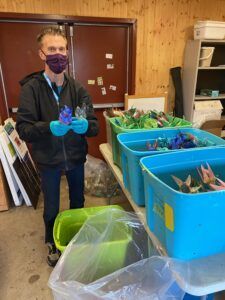 by Jonathan Lawson
The Inspirational Garden at Town Centre Park is dedicated to growing, supporting and connecting gardeners in the community.
Jonathan, from IDS1, has recently started a new volunteer job at the Inspiration Garden (Lafarge Lake).  Even after only 4 volunteer shifts Jonathan finds the work enjoyable, being able to spend time outside, work in the soil and to learn a lot of new gardening skills. Each shift brings new challenges, as Jonathan duties change and depends upon what needs to be done in the garden that day. Jonathan has been learning new skills like learning how to dead head flowers, how to get rid of cottonwood seedlings by using a hoe and how to identify various plants, plant from weed. Jonathan volunteers with other members of community on this project through the city of Coquitlam; he looks forward to continuing to work at the garden, and to see what each season brings to the garden.
Some people from community have commented on the garden stating, "It's a great and delightful park in the community. When you walk inside the park you can feel relaxing. I think all the parks like that. A lot of people join the gardening."
Greenhouse Project
The "Individualized Day Services 1" Catering Team has been developing a plan to start growing herbs in the Melissa Park Greenhouse since December 2018. The plan projects that three of the herbs needed for the dips will be grown on site this Spring and Summer. The team was tasked with creating and presenting a proposal to their Manager. They worked every Tuesday for 6 weeks researching the seeds, plants, packaging, storing, growing and watering system, and created a thorough proposal. After approval, their next steps were to purchase all the materials, and start planting. This part of the project fell in the same time as Earth Day. To celebrate the start of the Melissa Park Greenhouse and Earth Day, the team created and hosted a planting event on site for everyone at CISS from all teams to attend. They were proud to show their work and get more people in the organization involved. They created a short presentation on "Where they started", "Where they are now," and their "Goals for the future of the greenhouse." Next, they took everyone for a tour of the greenhouse and demonstrated the planting procedures. Finally, they invited the guests to the event in planting seeds with them. The greenhouse has already seen the herbs sprout and they are going to be ready to be harvested in the next few weeks to be dried and used for future dips.
William's Story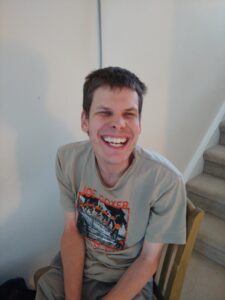 William has made many connections and friendships at Community Integration Services Society (CISS) over the years; then Covid 19 hit the world!  William spent a great deal of time at home during the early days which inspired him to conduct online research about how to advocate for himself and, learn helpful and insightful techniques. William participated in the Self-Advocate Committee meetings at CISS virtually, which was new for everyone.  He feels more comfortable being assertive, able to "speak up" with more confidence and remarks that "small, everyday requests made a big difference."  While once feeling insecure and unsure, William now says he feels more empowered, independent and confident!
William says "I feel great about the progress I'm making!" This new-found and hard-won confidence has made William feel more empowered to pursue some important goals he had before the start of the pandemic: he wants to return to Vancouver Community College to resume his studies in technology and return to Toastmasters to work on his public speaking.
Hi, My name is Jennifer
Like any independent woman, Jennifer takes tremendous pride and fulfillment in her job. Jennifer spent this past year working towards developing her skills and earning her FoodSafe certification. She has put so much time and effort into this goal. First, Jennifer read online materials while waiting for courses to become available because of the Pandemic. However, when courses finally became available, they were all online and without a dedicated instructor! Also the entire course work was self-taught and self-paced! Nevertheless, Jennifer was resilient and when it was finally time to write the exam, all of Jennifer's hard work paid off! Jennifer passed the final exam on her first try! Within one month Jennifer completed 4 units, 11 modules, 11 quizzes and a 50 question final. Jennifer showed incredible perseverance navigating through FoodSafe and online learning.
Christine – FoodSafe Customer Success Agent, "Congratulation [Jennifer] on completing the course despite the time pressures"
Jennifer is now looking forward to applying her newly acquired skill and exploring opportunities within the food and beverage sector. Jennifer loves working in Starbucks and will look into other available positions in her workplace. Congratulations Jennifer, you're an excellent student and good luck in your job search.
Adam's 5 Year Award – Vancity
Adam recently received an award from his employer, Vancity Credit Union, for his 5 Years of Service!  Adam has been working at Vancity since April 2016. In his role as an Administrator he is responsible for a variety of administrative tasks such as filing loans, business and estate documents, sorting statements, replenishing office supplies and ensuring branch cleanliness and maintenance. During his time at Vancity Adam has gained valuable experience and skills. Adam is so proud of his work and for reaching this milestone in his career. Adam states that he truly loves what he does and is thankful for his team at Vancity. – Adam Jamieson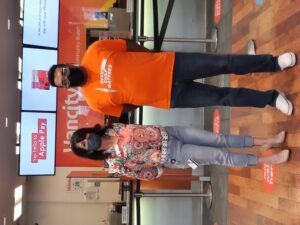 Statement from Adam's Manager at Vancity:
Cristina Pereira – Community Branch Manager – Pinetree Community Branch
'Hard to believe it's already been 5 years, but alas it's true! On April 5th 2021 Adam celebrated his 5 year Milestone Anniversary with Vancity. Adam is an amazing employee to work with. He brings his enthusiasm each morning when he greets the staff.  Adam works extremely hard and follows all directions given to him efficiently and with a smile on his face. It is a pleasure to work here at the branch with him! Adam is well-liked by the staff at branch 18.  Adam is very detail oriented and always willing to take on new tasks. We are constantly astounded by Adam's incredible memory and ability to recall events verbatim. Congratulations Adam!!