In 2021, CISS introduced a large-scale project called "My Story Is" that included contributions from every CISS program. The goal was to share, celebrate, and learn about each person's unique experiences through the Covid-19 pandemic. Each member of the CISS team was asked to share their story through a blank canvas in which they could express themselves through art and words.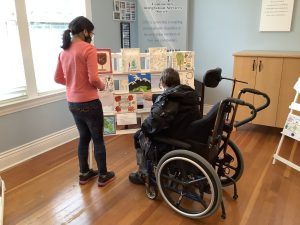 The "My Story Is" project was initially intended to be an in-person event scheduled for October 2021. The plan was to showcase each person's creative work in a gallery and invite family and friends to attend. Unfortunately, CISS had to cancel the physical event due to the ongoing effects of Covid-19.
Despite the challenges, the CISS community still managed to come together and celebrate their stories and experiences in a safe and socially distant manner. A video was made combining submitted clips from individuals and staff showcasing their canvases and sharing their Covid-19 stories. Below are some excerpts from said video.
Listen to what some of us had to say!
Director of Services Lee reflects back on the fears, hopes, and anxieties she faced throughout the pandemic.
William talks about his experiences with lockdown and what he did at home to stay busy.
Jonathan shares how his life has been impacted by the many changes from the Covid-19 pandemic.
Board Member Brandon Larson talks about how him and his family navigated through the pandemic together.
CISS Executive Director Shari Mahar discusses the professional and personal challenges she faced during Covid-19.
CISS would like to thank everyone who contributed to the "My Story Is" project and took the time to share their Covid-19 journeys with the community.